Launched in September 2016, TikTok is now one of the most popular social networking platforms out there. It's actually a video sharing service that allows users to share a variety of short videos, including dance videos, plays, lip-sync, comedy, among others. As of May 2020, TikTok had over 800 million active users globally.
Even though the TikTok social networking app was launched in 2016, it's own advertising program was not introduced until late 2018. But, it became an instant hit, thanks to the increasing popularity of the app and a huge base of users in the age group of 18-24 years.
Now, if you, as a business, are wondering whether or not TikTok is the right platform for your advertising campaign or what's the best approach to advertise on TikTok, this is your guide.
In this article, we will talk about a number of things related to advertising on TikTok, including why and how TikTok advertising is beneficial for a business, how much it costs, the process of running an ad on TikTok, and tips for optimizing TikTok ads for better results.
Let's get started.
Why Should You Advertise on Tiktok?
If you want to expand the reach of your business, increase awareness and get more sales, you should be where your customers are.
TikTok being one of the most popular social networking platforms out there can help you find and connect with your target audiences.
More than 800 million people worldwide are actively using TikTok. It's the only social media app that is as popular in the US as in China, along with other major countries. So, the probability of your target customers being on TikTok is always high.
Besides China, you'll find the most number of TikTok users in India, the USA, Russia, Turkey, Brazil, Mexico, the UK, among other countries. (See the graph below)
In short, the TikTok app is now being used by people all over the world. So, whatever your target industry or location is, you can target it through TikTok ads.
Another interesting fact is that most of the TikTok users (around 41%) are aged between 18 and 24. So, if your product/service targets users in that age group, this app can be a gold mine for you.
More than 50% of TikTok users (56% to be exact) are female, which means the app is used by both gender types equally. So, this is another brilliant opportunity for brands that have products/services targeting either or both genders.
Another thing that makes TikTok better than its counterparts are multiple and specific advertising options. With four types of ad options on TikTok, you can choose and use the one/s that best fits your campaign goals and target users.
Many popular brands, including the likes of Grubhub, Nike, Apple Music and others use or have used TikTok ads to increase their brand reach, awareness and popularity.
With some of the most advanced targeting and ad creation options, the TikTok Ads can enable you to target your audience with the best content to get the most of your ad budget.
Here are some other benefits that your business can get by using TikTok Ads:
High-quality, relevant and targeted traffic
Easy to track conversions with TikTok Pixel
Easy to set up and customise
Maximize marketing ROI
Ideal for all kinds of marketing goals, including traffic, sales, app installs, and visits
TikTok Ads are a great way for businesses to get in front of their target customers, irrespective of whether or not their product/service is already popular on the platform. Unlike Facebook, Twitter and Instagram, the competition to win the best advertising positions on TikTok is relatively low and easier.
However, TikTok may not be ideal for every kind of business, so take some time to explore more information about TikTok advertising to find out whether it's the right marketing platform for your particular business.
How much do TikTok Ads cost?
It has not been long since TikTok started its official advertising program, which means the competition in this space is still low. But, that does not mean that the cost of running ads on TikTok is low. IT'S NOT.
With many top organisations like Disney and Nike using TikTok advertising to promote their businesses, it's possible that TikTok ads might not fit the budget of small companies. Let's take a look.
Depending on the type of advertisement you're running or planning to run, the cost may go as high as $300,000 to run and maintain a comprehensive TikTok ad campaign. While the average cost is $10 per CPM (cost per 1000 views), the minimum investment needed to start a TikTok campaign is $500. If your budget doesn't agree with that or if you want more affordable options, TikTok may not be the right fit for you.
If you are already using advertising on Facebook and Instagram, switching to TikTok can be a little more expensive.
TikTok advertising is still a new program, so the platform is able to offer its prime advertising space to most of the advertisers, given that they can afford the high cost.
TikTok Ads starting rate
$10 per CPM
The minimum amount to invest in a TikTok campaign
$500
Depending on the ad types, the costs of running a TikTok Ad Campaign are as follows:
Brand takeover ad (minimum 5 million impressions)
$50,000/day
In-feed ads (min 600 impressions – prepaid)
$10 per impression
Hashtag Challenge
$150,000 per week
Partnering with a TikTok Influencer and using their existing followers to promote your business is still the easiest and most affordable option for advertising on TikTok.
If you can manage to find and work with popular TikTok users, who have your target audience as followers, it's worth the time and money.
Alternatively, you can consider starting and running your own TikTok channel representing your brand or business. It's more or less like setting up a business page on Instagram or Facebook.
As long as you share interesting and engaging content that your target audience or followers love to watch, your investment on TikTok will be paid off.
How to run Ads on TikTok (Step-by-step Process)
So, you have decided you want to run ads on TikTok and you know it's going to be a fruitful investment. Well, the next thing you need to know is the process to set-up an ad on TikTok.
Here's how to do that.
Step 1: Create a TikTok Ads Account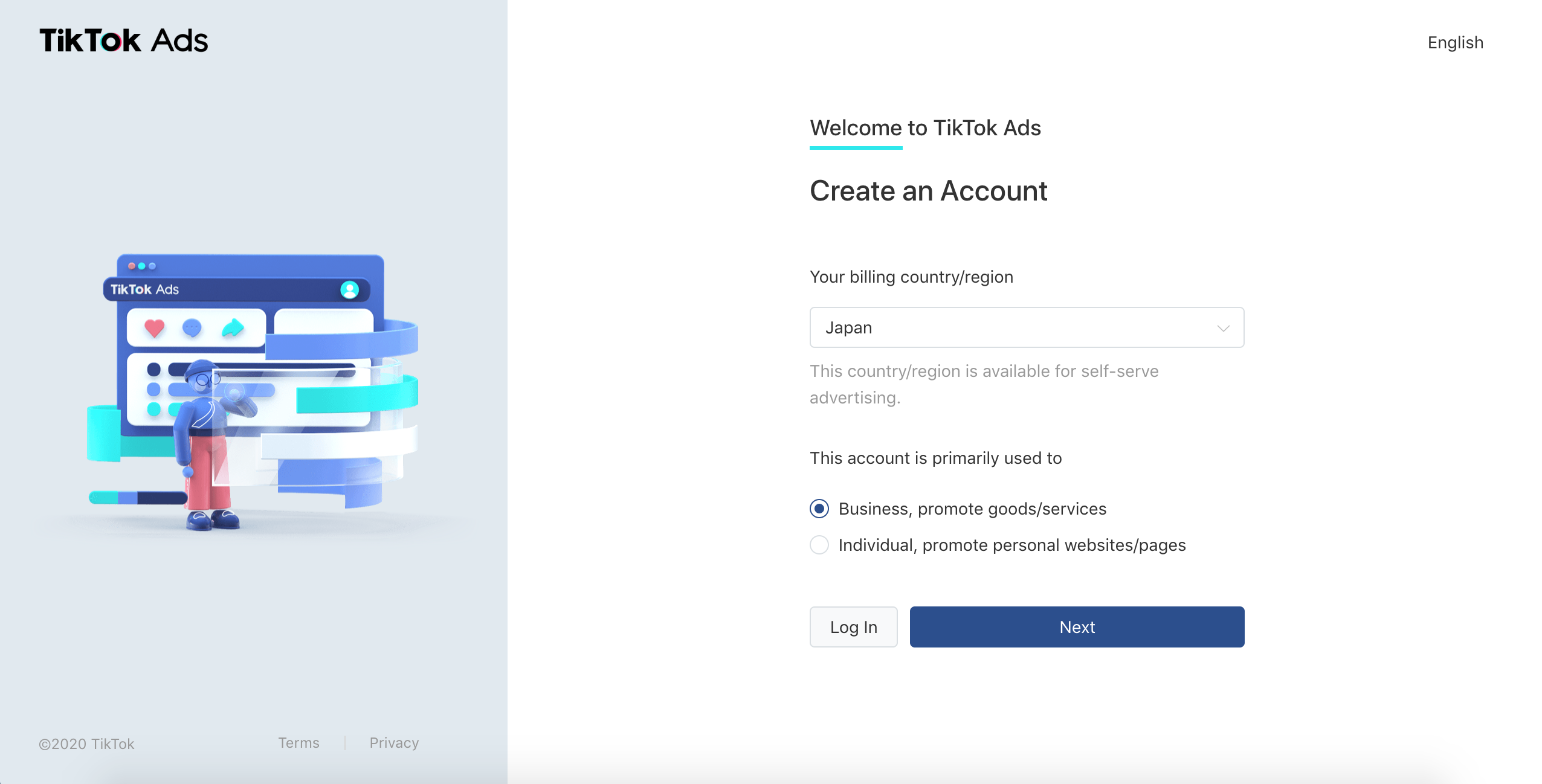 To start creating ads on TikTok, you'll first need a TikTok ads account.
To create one, visit the website ads.tiktok.com and click on "Create an Ad" button on the homepage. This will take you to the registration page.
Select the country (it's your billing country, not the targeting country). Select the account purpose between business or individual. Create on the Next button to proceed.
Enter your details, including email, phone, password, and the verification code sent to your phone. Click on the Sign Up button when done.
Enter the Account Name (preferably something related to your business), phone number, currency, and check the box for terms & conditions. Click on the Register button to proceed.
Well, congratulations. Your TikTok Ads account is ready.
Step 2: Creating Your First TikTok Ad Campaign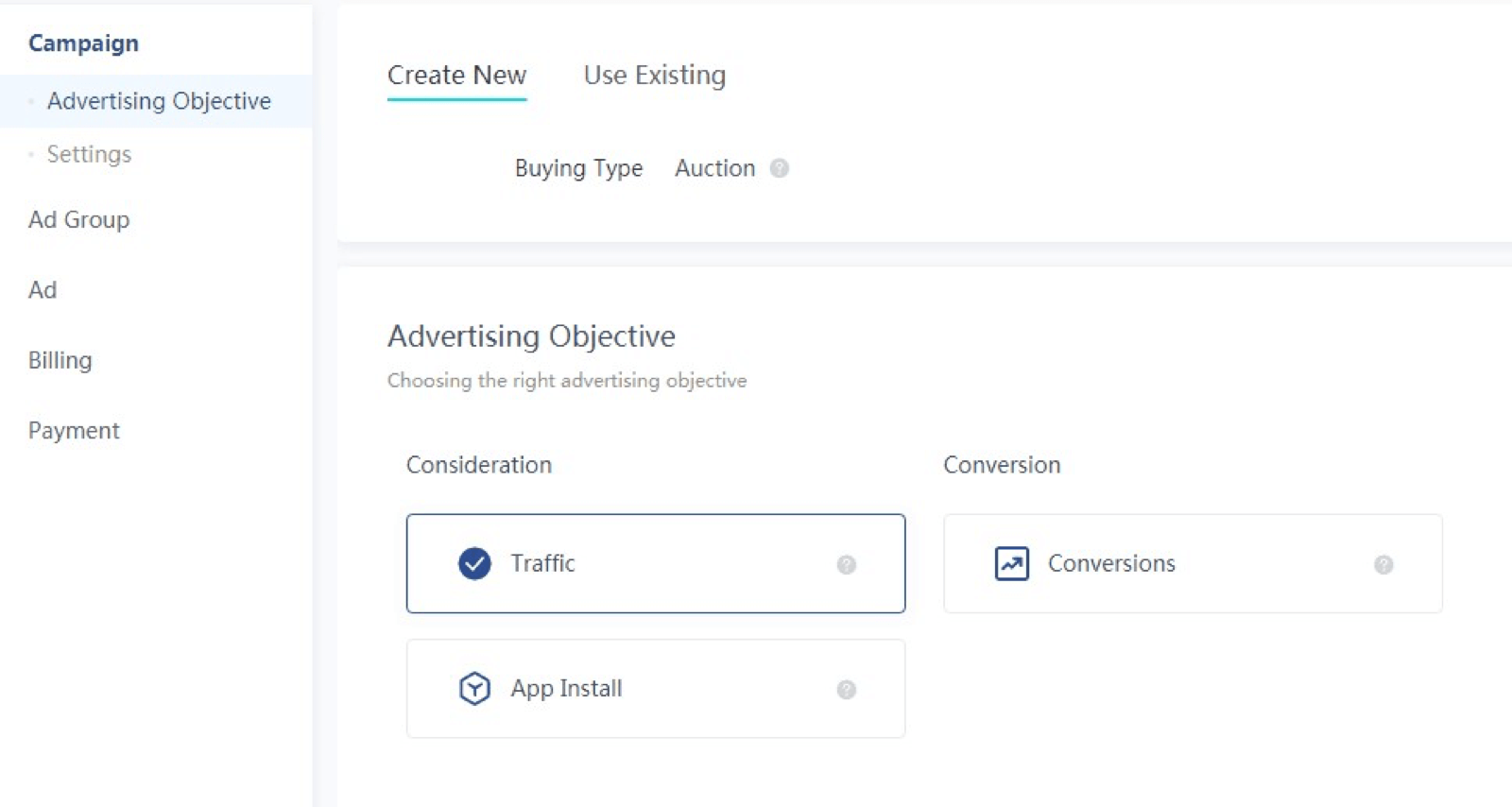 On your TikTok Ads dashboard (the one you get to after signing in to your ads account), click on Create New button in the Campaign tab (left sidebar).
Choose your Advertising Objective, i.e. the primary goal of this ad campaign, from Reach, Traffic, App Installs, Video Views, and Conversion.
Give a name to your ad campaign.
Set your budget. If you want No Limit for your ad budget, click the checkbox for No Limit. Otherwise, enter the maximum amount you wish to spend (daily/lifetime) on this particular ad campaign.
TikTok has also recently added one more option, that is 'Create Split Test'. This will divide your campaign in two test groups so that you can track and compare between different strategies.
Step 3: Create a TikTok Ad Group
Ad Group is a group of similar types of ads.
To create an ad group, click on the Ad Group tab in the left sidebar. Enter the name for your ad group.
Now, TikTok is not just a single website or app, but it has a family of platforms where you can promote your business from this single account. You can choose the same in the 'Placements' option. Select from TikTok, Vigo (India only), News Feed App Series (TopBuzz/BuzzVideo/News Republic/Babe), Helo (India only), and Pangle (available in Japan, Korea and Taiwan).
Alternatively, you can select the 'Automatic Placement' option for TikTok to automatically select and show your ads on the most relevant placements.
The next step is to enter the Ad Details.
Select the Promotion Type from App or Website, i.e. the type of product you want to promote.
For Website, just enter the URL.
For App, select from the apps in your dashboard. If you haven't added an app yet, click on the 'Create New' button to create one now. This will take you to a new page. Click on the 'Create New App' button. In the pop-up box, select from Android or iOS, and enter the App URL (App Store for iOS and Google Play Store for Android). Click on the Next button to continue. Complete other details and click on Done.
Now, you can go back to your Ad Dashboard, click on the Refresh button next to the Ad Details column. Select your app from the list.
Enter details like Display Name, image, category, etc. In the 'Ad Tags' field, you can add up to 20 keywords relevant to your business or campaign. Allow or disable user comments on your ads.
The next step is to choose the Targeting details. If you selected the 'Create Split Test' option earlier, you'll see two tabs here (Targeting A and Targeting B). Otherwise, there will be just one. Here you can define your target audience. If you haven't defined it already, click on the 'Create New' button to do it now.
TikTok even lets you create a custom audience if you want to target specific users or channels. At the same time, you can choose to exclude specific users from targeting.
In the next field (Demographics), you need to select your target locations, (countries, cities, etc.), Gender, Age, Language, Interest, Device, among others. These details will be used to show your ads to the right target audience for your business.
In the Budget & Schedule column, select your maximum daily or total budget for that particular ad group. Then, choose the schedule (duration) for which the test/ad should run.
The next step is Bidding & Optimization. Here, you need to select your optimization goal, i.e. the primary metric for your ad campaign. If your optimization goal is Click, your ad will be priced using the CPC (cost per click) method, where a fixed amount will be deducted for each click you receive on your ad. In the Bid Strategy section, enter the Bid amount you prefer.
In the Delivery Type, select from Standard (for your ad budget to be distributed evenly through the ad duration) or Accelerated (to spend budget quickly for more results).
If you're using any third-party tools to track impressions, clicks or views, you can enter the tracking URLs here.
Click on the Next button to continue.
Step 4: Create Your First TikTok Ad
Now, you are ready to create your very first TikTok ad. It's going to be both interesting and challenging at the same time.
Let's get started.
Click on the 'Ad' button in the left sidebar on your dashboard. Under the 'Create New' tab, select one from the single video and single image options.
Note: Image ads are not shown on TikTok. If you want to display your ad on TikTok, create/upload a video or convert multiple images to a video.
When you click one option, you'll see more details.
For the image option, upload an image from your computer/phone. Select the image area to cover in the ad and click Confirm. Click on the Upload button to proceed. Confirm. Enter the Text to go with your image ad. Select a Call to Action from Download, Sign Up, Shop Now and other available options.
For the video option, upload a video from your computer or add one library. Add the details like text, title, etc. Click on the Submit button to proceed.
In the next tab, enter your business information, contact information, tax information, and payment method for TikTok ads. Click on Next to continue.
Make the payment to finish the process.
Congratulations, your TikTok ad is live!
The process of creating ads on TikTok may seem quite long and hectic, but it's not so. Once you get familiar with the process and have created a couple of ads successfully, the process will be much easier and straightforward.
Types of TikTok Ads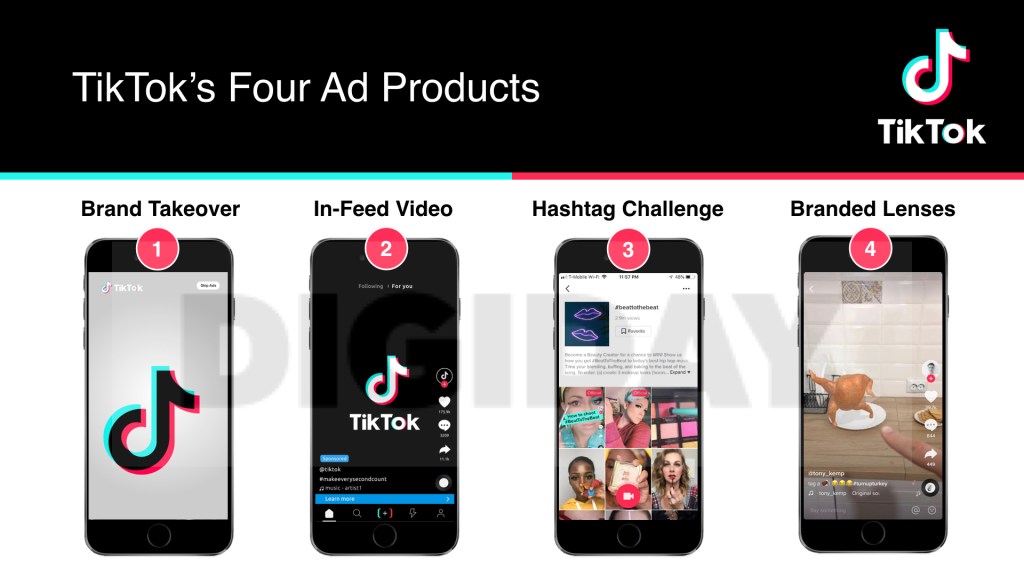 As of now, TikTok runs the following three types of ads:
1. Brand takeovers
This type of ads is shown the first thing when a user opens his TikTok app/account. So, naturally, it is likely to get the maximum exposure and reach on the platform. This also makes it the costliest advertising option on TikTok.
Only one advertiser can show a brand takeover ad for a specific topic/category for a day.
2. In-fee Ads
This type of ads is shown either within the feed between videos or at the bottom of the timeline, depending on the ad relevance and product type. This is the most affordable advertising option on TikTok and costs about $10 per CPM.
2. Hashtag Challenges
A hashtag challenge is a promotional hashtag campaign where the TikTok team encourages users to create and share content related to your business/product/service. At $150,000 per week, it's also a costly advertising option on TikTok.
How to optimize TikTok Ads to get a better response at minimum cost
The trick to achieving success with TikTok ads is to optimize your ads for maximum exposure and engagement. If you are only creating the regular, low-quality ads, the money invested in TikTok advertising will likely yield no returns. Here's how to maximise your TikTok ads for the best results.
Use high-resolution images
Users love images that are high-definition, attractive, striking and detailed, so make sure to use only unique and high-resolution images/videos for your TikTok ads.
Write an engaging and focused ad content
Rather than stuffing too much content in your ad, keep it simple and to the point.
Add only one call to action (CTA)
If possible, use only call to action in one ad to avoid confusion and get the most traffic to your website/app.
Optimize ad description
TikTok ad descriptions are limited to a fixed number of characters. So, irrespective of how complex your product/service is, you have to explain everything in brief here.
Optimise the ad layout
While the ad description appears at the bottom, the title appears at the top, so you have to organise your ad/video content accordingly such that it doesn't feel congested.
Use the Split Test feature to test your ad in different targeting situations.
Track and improve
Constantly track the results, views, impressions, clicks, etc. on your ad and experiment with different targeting options and elements to improve the results.
Use the Automated Creative Optimization feature of TikTok Ads to allow the app to automatically create the best ads from your content (images, videos, etc.) and present them in the best possible way to the users for the maximum results.
Conclusion
TikTok advertising is only going to get more famous and competitive with each passing day. The platform already has over 1 billion users, sharing hundreds of hours worth content daily.
It's the best time to start advertising on TikTok, as the advertising cost might only increase as the competition and demand increase. Follow the above step-by-step guide to start and optimize your TikTok ad campaigns.
Need help? Hire a professional TikTok advertising team with SAG IPL UK to start your brand's TikTok journey today.
Our digital marketers are experienced in creating the best TikTok marketing strategies and delivering the desired results for clients in different industries. To discuss your requirements, call us or send an email now!